"A woman is like a teabag.  You never know how strong it is until it's in hot water!" Eleanor Roosevelt.
My friend's kids call me Miss JoJo.  I am a stay at home mum to a two year old, Edie Bea.   Since emigrating from the UK in 2005 I have been  involved with party planning in one way or another.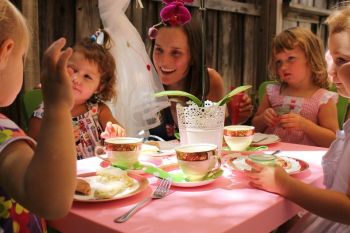 My husband Matthew and I have been planning events in San Francisco together for years and have over 21 years of party planning wisdom between us.  We even planned our own taco truck wedding, which I must say was the start of the food truck revolution!
After spending two years watching Edie Bea grow from a young whipper snapper to a toddler I just could not wait to get my hands dirty organizing her 2nd birthday party.
After searching far and wide for the perfect party idea I decided to throw her a tea party.
Having been privately educated at an all girls' school in England where elocution lessons were paramount to getting on in life,I know a fair bit about conducting oneself in a ladylike manner.  So, I went to work on creating the perfect children's party, incorporating tradition with etiquette lessons, party games and fancy cakes of course!
Hold on to your coattails and get ready for an effortless party, right in your home.  You don't have to do a thing  except write the guest list and decide what your going to wear for your little darling's special occasion.  If you are looking for a unique party idea that your guests won't soon forget, give us a call and book your next party today.